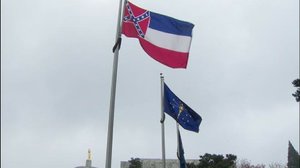 Leaders of the Oregon Legislature have followed up on their promise to take down a symbol of the Confederacy from outside Oregon's Capitol in Salem.
Rep. Lew Frederick, the only black lawmaker in the Oregon House and a representative of north and northeast Portland, proposed removing Mississippi's state flag last year after a picture of the man charged in the South Carolina black church massacre showed up with him posing with a Confederate flag.
South Carolina later voted to remove the Confederate flag from its Capitol after a prolonged controversy, but Mississippi's state flag is unique as the sole remaining state flag which still depicts the Confederate emblem in its design.
Frederick, who grew up around the Confederate Flag in the South, said he saw the symbol as a way to taunt African Americans and remind them of the racism and attachment to racism that still exists for those who carry or display the flag.
Oregon Legislative leaders first wanted to give the state of Mississippi a chance to change the flag on its own sometime this year. That didn't happen and the flag was taken down on March 4 after the state Legislature adjourned.
The action was taken by Senate President Peter Courtney, D-Salem, and House Speaker Tina Kotek, D-Portland, whose House district is also in north and northeast Portland.