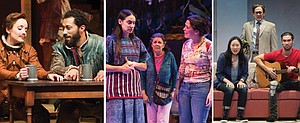 The Oregon Shakespeare Festival has opened all but one of its eleven shows for 2017. Why should you travel down to Ashland to partake?
For all the challenges that living in this state -- and, indeed, traveling to southern Oregon specifically--presents for people of color, some of the best theater anywhere is happening at OSF. We have the opportunity to see the stories of people of color, written by people of color, and featuring artists of color who, as in other fields, otherwise disproportionately struggle for work. Increasingly, OSF is a place where theater casts the vision for living beyond a culture in which white voices dominate and determine what stories deserve telling and how they should be told.
My favorite of this season's plays, unfortunately, closed on July 6 -- but I write about it first because the production will be re-mounted by Portland Center Stage this fall. Its name, "Mojada" is a racial epithet --- in English, it would be "wetback" -- a derogatory term applied to people crossing the southern U.S. border without papers. But the playwright, Luis Alfaro, himself the son of Mexican-American farmworkers, is known for lifting up the voices of the marginalized with sensitivity and insight, and this play goes deep in its exploration of life among Mexican immigrants in Los Angeles. It illuminates layers of trauma and oppression in order to enable a deeper respect.
The subtitle of "Mojada" is "A Medea in Los Angeles," and Alfaro has taken the ancient Greek story of Medea and located it among immigrants fighting to build a better life in a U.S. culture which they experience as alien and hostile. Here Medea is a young undocumented immigrant who sews piecework for a pittance out of her home, and trusts her husband Jason to fight his way to a better life for their family. Their border crossing has left her traumatized and afraid to leave their little house in Boyle Heights, while Jason appears better equipped to play by new rules that seem to reward cunning, ambition, and sacrifice. But what is he prepared to sacrifice, and at what cost?
This production, which I've seen several times and expect to see again in Portland, is devastating in its depiction of how those at the margins are often subtly pushed to turn on each other to compete for the scraps that oppression affords them. Alfaro captures so poignantly the trauma and desperation that commonly characterizes the immigrant experience, and the countless ways in which being othered chips away at one's identity, seeding a sense of desperation that can lead a good person to make choices he or she would never have considered. Medea (embodied with wrenching, prophetic honesty by Sabina Zuniga Varela) is the main tragic heroine here, but she is not the only one; all the characters hold in these portrayals complexities of goodness and moral failure that are the natural result of pressure to conform to new rules that do not invite a full expression of identity. The dilemma creeps into their language, as they constantly process the loss of a former way of life and the new customs that first confound and then convince them of the need for selfishness and greed. It's the American way.
Director Juliette Carillo and her marvelous cast and creative team will move this remarkable production to Portland in November. At a time when our ideas of immigrant and refugee experience and our analysis of the pressures on the marginalized desperately need grounding in deeper reality, this production provides a necessary re-frame. It's worth prioritizing.
The remaining OSF season offers many reasons to prioritize a trip to Ashland as well. For a start, a wonderful production of "Julius Caesar" runs all season through October. Director Shana Cooper has approached this timeless tale of political intrigue from the standpoint of the toll which cycles of violence exact on the human body and soul. Shakespeare's history play is built around power moves and shifting allegiances and manipulation of public opinion that will feel familiar and resonant; this production uses physical movement to emphasize how such shifts are ultimately inevitable and relentless. Fight choreography moves between literal and metaphorical, until eventually actors are killed and rise again moments later to resume fighting. An excellent multiracial cast conveys the stress on their bodies with such visceral force that I felt breathless even watching them. One leaves with an appropriate recognition that war, including the merely political kind, destroys in more ways than we usually recognize.
A fine production of "Shakespeare in Love" also runs all season through October. Riffing off the Academy Award-winning Hollywood screenplay of the same name, this stage adaptation offers an opportunity to see a talented and very diverse cast play and sing and goof on the joy of making theater and on the importance and joy and inspiration of pursuing love wherever and however it materializes. It is perhaps the most broadly appealing of all the shows on offer this season, packed with deftly-executed comic bits and an uncomplicated warm heart.
The world premiere of "Hannah and the Dread Gazebo," by Korean-American playwright Jiehae Park, offers an entirely different lens on immigrant experience. As Hannah prepares to take the exams that will make her a board-certified neurologist, her grandmother's death prompts her to travel to South Korea, where her parents have returned after many years living in the U.S. The play shifts between the perspectives of Hannah and her brother (who live in the U.S. but are accustomed to feeling alien both at home and in South Korea), their parents, whose experiences of alienation weigh on them in an entirely different way, and various mystical South Korean characters. The Demilitarized Zone between North and South Korea provides a potent manifestation of other wounds that arise and lay unresolved in families like Hannah's.

Park's play, nimbly directed by Chay Yew, explores questions of identity, loss, and generational differences in a non-linear and sometimes poetic way that gently serves up questions that we don't think to ask, and that recognizes the value of leaving such questions unanswered. The production features a strong and buoyant cast; I especially appreciated Amy Kim Waschke's stoic and yet surprisingly lovable portrayal of Hannah's depressed mother and Jessica Ko's captivating shifts through a whole host of mystical characters.
Shakespeare's "Henry IV" is actually two plays, and this season Part One and Part Two are both being performed and can be seen separately or back-to-back. They are directed by two rising African-American directors, Liliana Blain-Cruz and Carl Cofield, and feature largely the same very strong diverse cast. They concern the reign of Henry IV, whose kingdom is embattled by rebellions in both parts, and his troubled relationship with his oldest son and heir, Prince Hal. In Part One, Hal seems determined to thwart his father's expectations, wasting his resources and considerable intelligence in hard-living with his drinking buddy, the older Sir John Falstaff. Blain-Cruz's production sets the play in a modern context and is one of the most accessible Shakespeare histories I've ever seen, conveying Hal's dissolution and the play's many conflicts with a current and visceral urgency.

Part Two continues Hal's journey away from Falstaff and toward the expectations of the throne. Though its tone is much more somber, Cofield's production includes some deeply funny bits involving a host of outrageous side characters. Daniel Jose' Molina's Hal bristles with intelligence and wit, and G. Valmont Thomas is fine as the scheming Falstaff. The ensemble cast of both shows embodies a dazzling variety of characters, shifting nimbly from broad comedy to nuanced melancholy. The productions offer a feast of great acting, especially for Shakespeare aficionados.
I'll post soon about the remaining shows, including a particularly strong outdoor season.
Darleen Ortega, a judge on the Oregon Court of Appeals and the first woman of color to serve in that capacity, serves on the board of the Oregon Shakespeare Festival. Her movie review column Opinionated Judge appears regularly in The Portland Observer. Find her movie blog at opinionatedjudge.blogspot.com.