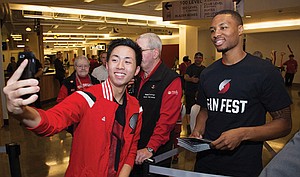 Fans will have their first opportunity to watch the 2017-18 Portland Trail Blazers live in action when the team holds its 13th annual Wells Fargo Fan Fest on Sunday, October 1 at the Moda Center.
The free event will feature first-come, first-served general admission seating, with doors opening at noon. The afternoon will be headlined by an intra-squad scrimmage at 1 p.m. Parking on the Rose Quarter campus will be free, subject to availability. Fans can download their free digital tickets at trailblazers.com/fanfest.
Wells Fargo Fan Fest is a great opportunity for fans to get an up-close look at this year's Trail Blazers team with a pre-game Q&A with players including Damian Lillard, CJ McCollum, Jusuf Nurkic and more. Attendees will also get to interact with the Trail Blazers broadcast team including Kevin Calabro, Lamar Hurd, Brooke Olzendam, Brian Wheeler and Michael Holton.
Fans will also get a chance to see performances by this year's BlazerDancers and Stunt Team, and receive prize giveaways from team mascot Blaze the Trail Cat.