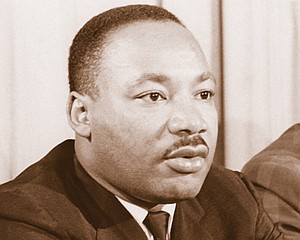 Church bells set to toll for each of the 39 years of his life and special ceremonies in honor of Dr. Martin Luther King Jr. were planned across the city of Portland Wednesday on the anniversary of his death 50 years ago when he was gunned down by an assassin in Memphis, Tenn. on April 4, 1968.
Reflecting on civil rights progress since his death, residents were asked to rededicate themselves to King's vision of equality and justice by meeting at 5 p.m. at the Japanese-American Historical Plaza, downtown, and marching to the MLK statue outside the Oregon Convention Center for a 6:30 p.m. rally sponsored by the Albina Ministerial Alliance Coalition for Justice and Police Reform and Ecumenical Ministries of Oregon.
Metro regional government also planned to host community leaders early Wednesday to speak about the civil rights movement and civil rights work that's still needed. The NAACP Portland Branch was marking the anniversary with a noon ribbon-cutting ceremony for their new branch office at the Lloyd Center.