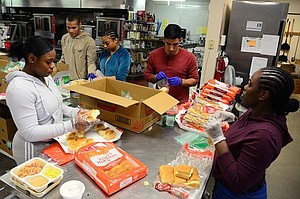 Meals on Wheels People invites you to join them for live music, food and entertainment on Sunday, April 22, when they host a non-competitive 3K walk at Portland International Raceway to raise awareness and funds for the nutritious meals they serve older adults.
The event will begin at 10 a.m. and conclude at 1 p.m. and will include live music, a kids zone, food, entertainment and a walkers village with a variety of vendor booths. Entertainment will feature Bebop and Beyond, Jefferson High School Heatwave Band, Big Bad Beat and Ronnie Carrier.
Other attractions include a juggler, balloon animal artist, face painting, and arts and crafts. The event will also feature a pancake breakfast for all participants. More than 1,000 people are expected to attend.
Walking teams and individuals are encouraged to register at strideforseniors.org. Awards will be made to the team and individual who raise the most money for Meals on Wheels People. For more information or to register, visit strideforseniors.org.