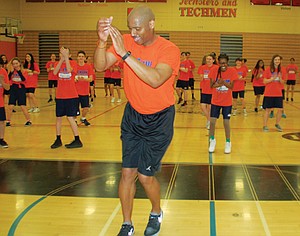 Curtis Wilson Jr. of Benson has been named the Oregon High School Principal of the Year.
"Caught me completely off guard," Wilson said of learning about the honor Thursday. "I did not expect that at all."
The award, administered by the Confederation of Oregon School Administrators and the Oregon Association of Secondary School Administrators, makes Wilson eligible for the national Principal of the Year Award.
Under Wilson, Benson's graduate rate rose to 88.8 percent for 2016-17, well ahead of the Oregon average of 74.8 percent. Benson's dropout rate for that year was 0.2 percent; the state average was 3.9 percent.
Wilson said he is proudest of being able to build a community with Benson's diverse student body that is about 70 percent students of color and with about 70 percent who qualify for the free-and-reduced lunch program.
"It's just being able to work with students, staff and family and help bring them together," Wilson said.
Wilson manages a campus that shares space with the Dart Program, Alliance at Benson, Benson Evening Scholars, a full slate of Summer School Programming, and several other alternative pathways programs.
"He is a valued peer for the administrators of those programs helping to serve our most vulnerable learners," said Ginger Taylor, former Benson Evening Scholars Principal.
Wilson is in his fifth year as Benson principal after moving from Grant, where he was a vice principal. A graduate of Roosevelt High School and the University of Oregon, Wilson started his education career as a health teacher at Harriet Tubman Middle School in 1997, before moving to Roosevelt to teach in 1997.
He also served as a coach, of basketball at Harriet Tubman, and track and cross country at Roosevelt.
In 2006, he moved into administration, first as dean of students at Roosevelt, then moving to Grant as a vice principal in 2007. In 2013, he took over as principal at Benson, succeeding Carol Campbell, who took the same position at Grant.
Wilson showed just how dedicated he is to Benson when the school's girls basketball team made the state championship game. He offered to pay the admission of any Benson student who wanted to watch the Techsters play Southridge at the Chiles Center.