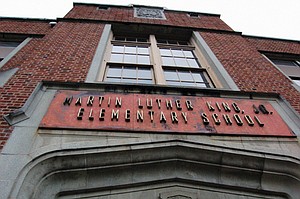 Parents at Martin Luther King Jr. Elementary School, one of the most diverse and historic public schools in the heart of Portland's African-American community, are upset over proposed staffing cuts for the upcoming school year.
Amid the 50th anniversary of the school's renaming last week were celebrations of its historic past and uneasiness for school's future.
Leaders of the King Parent Teachers Association say the school district's recently announced plans to cut teaching, administrative and other staff positions at King as it transitions next school year from a K-8 program to K-5, are too extreme and go against the district's own equity goals. In addition, they say a long term failure to draw more students to King by expanding boundaries over the long haul means the northeast Portland school will fall behind other schools and get short changed again and again.
Eight full time equivalent positions—which could include a number of part-time staff whose hours add up together to be fulltime--are anticipated to be cut at King which may include teachers for English language learners and special education, the school psychologist, and Vice Principal Yolanda Coleman, the PTA said.
Located at 4906 N.E. Sixth Ave., King is one of eight K-8 schools that is converting to a K-5 school next year. Those conversions, along with the opening of two new middle schools and other changes have caused projected staffing levels district-wide to change.
A detailed report of each school's expectant enrollment changes and subsequent funding changes was released last Tuesday by the school district, along with a set of equity-based goals for the changes, one of which is to "ensure schools have adequate staffing to maintain reasonable class sizes."
Martin Luther King's enrollment is expected to drop by 21 percent along with a staff cut equivalent to eight full-time positions, the report said, leaving an anticipated student-to-teacher ratio of about 10 to 1 for next school year. But those projections explode to about 30 to 1 when you remove special programs at King, school officials said.
The school houses both a Mandarin language immersion program, enrolled via a lottery, and a traditional neighborhood program, which is enrolled through boundary designations. The two strands are funded separately and have widely different enrollment figures.
"Hidden in the averages, what you don't see, is that our neighborhood strand looks to have very large classes, a single class for each grade," said King PTA Vice President Megan newell-Ching. "The actual situation that we're looking at next year for our Fourth and Fifth grades is going to be 30 students."
Next year the Mandarin only side is projected to have class sizes ranging from 15-25, while the English only side will have class sizes from 23-33, school Principal Jill Sage told the Portland Observer. There are currently 125 students in the Mandarin program and 174 on the English only side and those figures are likely to be flipped next year, she added.
Newell-Ching said the new formulation was supposed to support the district's equity goals, but instead they continue year after year policies that "have led up to the situation that we're in now. I mean, that's not equity."