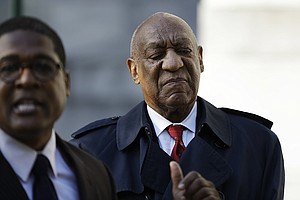 Cosby's new defense team, led by Michael Jackson lawyer Tom Mesereau, launched a highly aggressive attack on Constand and the other women.
Their star witness, a longtime Temple employee, testified that Constand once spoke of setting up a prominent person and suing. Constand sued Cosby after prosecutors initially declined to file charges, settling with him for nearly $3.4 million over a decade ago.
His colleague on the defense team, Katheen Bliss, derided the other accusers as home-wreckers and suggested they made up their stories in a bid for money and fame.
But Cosby himself had long ago confirmed sordid revelations about drugs and extramarital sex.
In a deposition he gave over a decade ago as part of Constand's lawsuit, Cosby acknowledged he had obtained quaaludes to give to women he wanted to have sex with, "the same as a person would say, 'Have a drink.'" The sedative was a popular party drug before the U.S. banned it more than 30 years ago.
Cosby also acknowledged giving pills to Constand before their sexual encounter. But he identified them as the over-the-counter cold and allergy medicine Benadryl and insisted they were meant to help her relax.
The entertainer broke racial barriers as the first black actor to star in a network show, "I Spy," in the 1960s. He created the top-ranked "Cosby Show" two decades later. He also found success with his "Fat Albert" animated TV show and served as pitchman for Jello-O pudding.
Later in his career, he attracted controversy for lecturing about social dysfunction in poor Black neighborhoods, railing against young people stealing things and wearing baggy pants.
It was Cosby's reputation as a public moralist that prompted a federal judge, acting in response to a request from The Associated Press, to unseal portions of the deposition.
Its release helped destroy the "Cosby Show" star's career and good-guy image. It also prompted authorities to reopen the criminal investigation, and he was charged in late 2015.