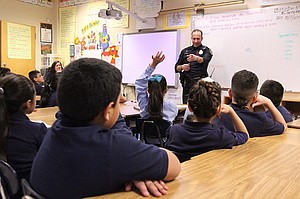 A proposed contract would formalize an arrangement between Portland Public Schools and Portland Police Bureau to expand School Resource Officer (SRO) presence to five days a week, though the proposal has received mixed reactions from student groups.
The current arrangement has one armed SRO overseeing each high school cluster, as available, except Mondays, at no cost to the district.
The contract, which must be approved by both Portland Public School Board and Portland City Council, would cost the district $364,000 this fiscal year and $1.2 million each school year through mid-2023, the Portland Tribune reported.
An initial vote by Portland Public Schools board was delayed last month when at least students raised concerns about the presence of SROs negatively impacting their learning environment, arguing they may disproportionately affect students of color and contribute to a punitive culture in schools.
The school board is now planning to vote and debate on the agreement set for Dec. 11.