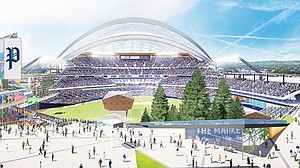 Portland Diamond Project, the organization behind an effort to bring Major League Baseball to Portland, announced Thursday it has signed an agreement in principle with the Port of Portland to develop the Port's 45-acre Terminal 2 property in northwest Portland for a new stadium.
"We believe this has the potential to be a transformative landmark project for this city," said Craig Cheek, Portland Diamond Project founder and president. "Building an iconic, state-of-the-art ballpark along the Willamette River will catalyze economic development and capture great views of both the urban scale of the city and regional character of the Pacific Northwest."
This letter of intent with the Port kicks off a collaborative process with the City of Portland, and local communities, to create a Major League Baseball ballpark and community destination in hopes of luring a major league baseball franchise to the city.
Cheek said the park would champion using locally sourced food and beverages, environmentally sustainable construction materials and provide opportunities for small businesses to create "an atmosphere that celebrates diversity and inclusion and is welcoming to all Portlanders."
Terminal 2, which for decades handled commodities such as steel rail, bulk ores, and other oversized international cargo, offers approximately 45 acres of riverfront property with more than 2,000 linear feet of waterfront. The site is located on Northwest Front Avenue, just north of the Pearl District and rapidly evolving Slabtown.

The Portland Diamond Project steered away from pursuing another centrally located property, the administration building owned by Portland Public Schools north of the Rose Quarter. That clears the way for another group that has been eyeing the north Portland site for affordable housing, called Albina Vision Trust.
Cheek added Terminal 2 is now the group's "preferred location" for the stadium after spending a year analyzing multiple sites.