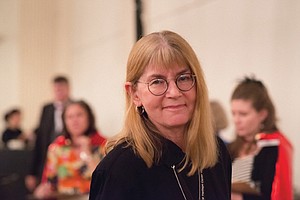 Catherine Mary Galbraith passed away on Nov. 23, 2018 at Hopewell House hospice from complications following a stroke. During her final days, the many messages from family and friends were shared with her, she was visited by a brother from Pittsburgh, and she was surrounded at her last breath by friends who loved her.
Cathy was born Sept. 1, 1950 in Pittsburgh, Penn. to John and Catherine (Stuparits) Galbraith. She attended St. Augustine High School, Pennsylvania State University for her Bachelor of Arts degree in community development, and did her graduate work in urban planning at Portland State University. She was also certified in nonprofit organization management and development at the University of Washington.
As planning director and then director of development services in Oregon City, from 1977 to 1986, Cathy's responsibilities were broad, but she was especially noted for her work advocating for the importance of historic places, including co-writing the Canemah Historic District nomination, developing the city's historic preservation program, and planning the End of the Oregon Trail Center. In 1987, she moved to Seattle to serve as the second executive director of Historic Seattle. Her impactful work there included the successful acquisition, financing, and rehabilitation of eight endangered historic properties which created 72 housing units, and starting the annual lecture series. The Belmont/Boylston Historic Houses project she shepherded resulted in 48 units of affordable housing in Seattle's first project combining historic preservation tax credits with low-income housing. The effort received the National Mortgage Bankers Association Multi-Family Project of the Year, and an Honor Award from the National Trust for Historic Preservation.
She returned to Portland in 1993 to serve as the founding Executive Director of the Bosco-Milligan Foundation. In addition to administrative responsibilities, she managed the inventory of the organization's extensive collection of architectural artifacts, exhibit and program development, and rehabilitation of the historic 1883 West's Block and its transformation into the Architectural Heritage Center. The project received a National Trust Honor Award in 2005.
Her nationally-recognized and award-winning leadership in documenting historic places associated with Portland's African American community was encapsulated in Cornerstones of Community – The Buildings of Portland's African American History, related exhibits and public presentations, and nominations to the National Register of Historic Places.
In 2010, she was the second recipient of the University of Oregon's prestigious George McMath Award in Historic Preservation which recognizes outstanding contributions to the field from leaders throughout the state. Cathy retired from the AHC in 2016.
Her extensive and passionate volunteer contributions in education, advocacy, and planning included leadership roles in many organizations such as the Oregon-California Trails Association, Historic Preservation League of Oregon (now Restore Oregon), and innumerable city planning efforts such as Portland's Interstate Corridor Urban Renewal Area. Her personal advocacy efforts at the national level in 1987 had a direct effect on the National Park Service's decision to restore Crater Lake Lodge.

In 2007, Cathy wed jazz and blues music icon James "Sweet Baby James" Benton and made her home in Scappoose. James passed away in 2016. Cathy was also preceded in death by her parents and her youngest brother Matt. She is survived by her brothers John (Marybeth), Roger (Lynn), sister-in-law Janna Galbraith, as well as nephews Alexander, John, and Joe; nieces Jaycie King (Garrett), Kelsey and Julia; grand-niece Cora and grand-nephews Bryce and Ellis.
A public Celebration of Life and private graveside service will be held at a later date.
Memorial donations can be made to the Architectural Heritage Center's Cathy Galbraith Fund or a preservation project of your choice.
Cathy's family and friends want to acknowledge and thank the staffs at Emanuel Hospital and Hopewell House for the compassionate care they provided. Arrangements by Crown Memorial.