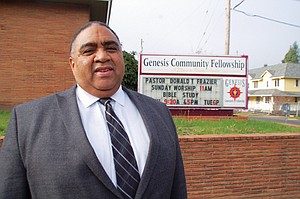 A northeast Portland non-profit is breaking down employment and housing barriers for people of color and others by providing free and specialized training in construction industry jobs, life skills help, and sponsoring new affordable housing for low to mid-income residents.
With a new $20,000 grant from the Oregon Community Foundation awarded last week and the near-completion of 20 affordable homes that have been under construction over the past year, the National Urban Housing and Economic Community Development Corporation (NUHECDC) is making strides in their public service mission.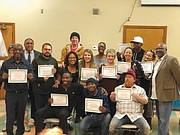 "We're real excited about that," said David Greenidge, NUHECD's executive director, who operates the organization out of the Genesis Community Fellowship, a non-denominational church, located at 5425 N.E. 27th Ave.
The organization was formed a few years ago when Greenidge and other concerned residents got together to survey why so many members of the black community in north and northeast Portland struggled to find work compared to the majority of the community. They found that African-Americans were over represented in the criminal justice system and the disparity was hurting them economically.
"The answer was we have a record and no one will hire us. So what we said is we wanted to find them a living wage job that can help sustain them so that they could really secure the future," Greenidge said.
Skilled trades and construction jobs are some of the most in-demand in the country right now due to a retiring baby-boomer workforce and a lack of emphasis in vocational training in public education over the last decade, according to Forbes magazine. Yet even as conventional college tuition continues to sky-rocket and place students in insurmountable debt, often with few employment options, the skilled trades offer livable wages right away.
The affordable housing component is important, too, Greenidge said, to ensure that disenfranchised community members can have a shot at not just staying alive, but thriving.
"It really cements their position in our current boom that's happening in the greater Portland area where people are thriving, people are growing, and businesses are coming in. And we wanted everybody in our community to survive and thrive," he said.
Thanks to the NUHECDC efforts, 20 townhomes, collectively called Brunswick Commons, will open at the end of the month with prices ranging from $299,000 to $315,000 for three bedroom units. Ten of the lower-priced homes are located at 28 N.E. 109th Ave. and the other 10, at a slightly higher price and for more square footage, are located at 10859 E. Burnside St.
For first time buyers, "The units are not only affordable, they're well-built, located right on the MAX line, and are eligible for a 10-year property tax abatement," Greenidge said.
The organization's free job training and life skills programs are open to all while still aiming to help people of color, at-risk youth, distressed veterans, and prior offenders.
"We have a real diverse group of people come in. We have whites, blacks, Latinos, Indians," Greenidge said.
A lot of the referrals for jobs training come through probation and parole officers because they have made contact with people coming out of incarceration wishing to turn their lives around.