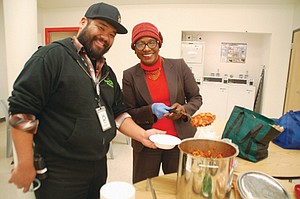 A community volunteer is giving back and recruiting others to do the same by distributing hot meals to guests at a new temporary homeless shelter in the heart of Portland's historic African-American community.
D. Bora Harris, an independent consultant and community leader, cooked a hot breakfast of grits with butter last week for guests at the Walnut Park shelter and followed that up with cooking a pasta dinner for the shelter's homeless a couple of days later.
Located inside a county-run facility at 5329 N.E. Martin Luther King Jr. Blvd. and Killingsworth Street, the shelter was first opened for overnight stays on Nov. 19 and is managed by the Portland non-profit Transitions Project. Housing up to 80 people nightly, it offers basic accommodations like a bunk bed, a place to store belongings, a bathroom and hygiene supplies. Regular meals, however, are not offered, as the limited accommodations at the shelter do not include the wiring and infrastructure to hook up a kitchen stove.
When Harris, an unsuccessful candidate last May for chair of the Multnomah County Commission, found out food could not be cooked at the shelter, she decided a good beginning would be to cook some meals at home herself and distribute the food to the homeless seniors, veterans and other disadvantaged people who were relying on the shelter to survive.
"I was excited that there is a temporary shelter in the Northeast area. Being a part of the community, it's the community's responsibility to help out," she told the Portland Observer.
Harris hopes she can enlist the help of different faith-based groups, and other organizations, in the area to increase the distribution of meals into a weekly event at the shelter. Her Church, Daniels Memorial Church of God, located a few blocks away at 1234 N.E. Killingsworth St., has already committed to help, she said.
Harris said she's received positive feedback from other community members and the shelter's staff about the meals, as well.
"The guests are so nice. We talk, we have conversations, and they're so polite. The staff are awesome also," she said.
Paul Susi, the shelter's manager, said Harris' efforts and the help from other volunteers have been welcomed warmly.
"Lots of folks have been coming out to volunteer to donate meals, hot meals, 'cause we don't have a kitchen facility on site so we can't provide that. This is a big help to engender a feeling of community here and to connect folks to our neighbors in a positive way," Susi said.
He added that the shelter is at full capacity already and has received support from many other community organizations.
"There's also been a lot of cross coordination with our neighbors next door at the county with the aging, disability, and veteran services, WIC, the health department…they have a lot of regulars in the area that they want to see housed and they want to coordinate/care for. We've been happy to provide resources for them," Susi said.
In addition to the shelter, the Walnut Park building houses a county health center, multi-cultural senior center, and dental clinic.
For more information on the Walnut Park Shelter, contact 503-280-4700. For anyone interested in joining Harris in her effort to make weekly hot meals a reality for the shelter's guests, you can call her at 503-936-8020 or email borahbora@aol.com.