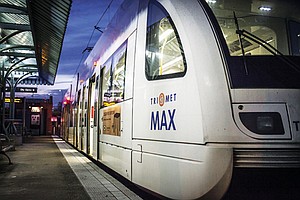 New Year's Eve revelers are encouraged to think safety by leaving your car at home and using TriMet. Rides on buses and MAX will be free on New Year's Eve beginning at 8 p.m. on Monday, Dec. 31, through 3 a.m. Jan. 1.
Portland Streetcar is also offering free service on New Year's Eve. MAX trains will provide extended late-night service until about 3.a.m. Buses and Portland Streetcar will run on regular weekday schedules.
To take advantage of the free New Year's Eve service, just remember, after 8 p.m., there's no need to tap your Hop card or buy a ticket at the station. Just hop on any Trimet bus, MAX train or Portland Streetcar and travel safely to your destination.
For those traveling before 8 p.m. on New Year's Eve, or after 4 a.m. New Year's Day, fares are required.