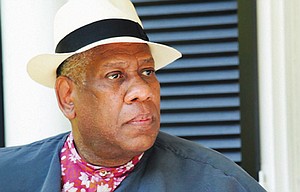 "You can be aristocratic without having been born into an aristocratic family," remarks Andre- Leon Talley, reflecting on his life in the new documentary, "The Gospel According to André." Although he likely could not have articulated that perspective when he was a young child growing up in the Jim Crow South, one senses that he somehow knew it to be true from earliest childhood.
Talley's capacity to respond to the beat of his own heart's drum comes through as he and a variety of friends -- ranging from his former classmates and a teacher in Durham, N. C. to fashion greats like Marc Jacobs, Tom Ford, and Anna Wintour -- reflect on the particularity of his voice and on his remarkable life.
The arc of Talley's story could hardly be more dramatic and unpredictable. At the age of 9 or 10, he discovered Vogue magazine at the public library, and its world of style and elegance became his escape from the less idyllic world of segregated North Carolina in the late 1950s. Inspired by the magazine pages that he would tack up on his bedroom walls, Talley reached for his own expressions of style even when it got him bullied.
After attending segregated schools in the South, Talley won a scholarship to Brown University for a graduate degree in French literature. Brown exposed him to an effete world more tolerant of his penchant for experimentation, and boosted his prospects enough to support his subsequent move to New York City in the early 1970s. There he began working as an aide to Andy Warhol and Diana Vreeland, the venerable former editor-in-chief at Vogue, and made himself indispensable in the New York fashion scene. Eventually he became not only the right hand to Vogue editor Anna Wintour (who acknowledges that he knows more about fashion history than she does) but a person whose opinion appears to matter to virtually everyone.

As improbable as his story seems, Talley sees the threads to his early life, and is that rare person whose early ties still bind. He speaks reverently and specifically of his relationship with the grandmother who raised him, who kept a spotless house filled with the smells of her baking and who loved him unconditionally. While Talley has said that they did not speak of how he was bullied, he conveys how profoundly his grandmother's acceptance affected him. He also speaks ardently of the lessons of style he learned from the denizens of the black church in Durham that he attended while growing up, who often shed their daily uniforms as maids and servants to come dressed on Sunday in carefully assembled suits, dresses, gloves, and elaborate hats.

Talley's mind and heart clearly were primed for beauty and artistic expression, and the capacity to spot those things where they would otherwise be missed. The grandson of a sharecropper, he speaks, though only in passing, of the impact of slavery and lynching on his childhood, and of painful manifestations of racism he has experienced in his professional life. I've read some criticism of the film's failure to delve more deeply and critically into how Talley achieved what he did and into his personal failings. The criticism seemed to me to miss the point entirely; in some ways, there is no way to explain how a person moves through such challenging circumstances to find his voice with such clarity. Director Kate Novack's approach avoids asking direct questions for which answers will oversimplify the inquiry. Instead, she shows us Talley being his voluble yet tender-hearted self, demonstrates his connection to his origins and his capacity to build lasting ties with people across a particular broad spectrum of time, class, race, and context.
That's the story. It's a depiction of the resilience of someone who came from the margins, who is still in some sense an outlier -- and who manages to shift every conversation in which he participates, just by showing up as himself. Even in the world of fashion, which many would see as frivolous, a story like this one has potential to teach and inspire.
Darleen Ortega is a judge on the Oregon Court of Appeals and the first woman of color to serve in that capacity. Her movie review column Opinionated Judge appears regularly in The Portland Observer. Find her movie blog at opinionatedjudge.blogspot.com.