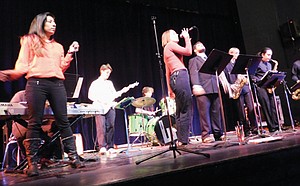 In the 1970s, Jefferson High was a performing arts school with a thriving school band, the Sounds of Jefferson. Today, the focus is on college prep academics and the school's highly-rated dance program is the only remnant of those days.
Back then, the school's music program was created and run by Jim Little. He said the school band was a huge success with hundreds of kids involved, from elementary school on up. Now he's trying to do it all over again, but this time, as an after-school program.
"The reality is that it's going to be a long time before it's an in-school program (at Jefferson), so the best shot we have is for an after-school program, and I'm a believer in after-school programs," he said.
Serving inner north and northeast Portland, Jefferson High has traditionally been a school that has included and attracted African American students, who comprise more than half the student body.
Luwam Solomon, who is black, rides a bus for an hour each day just to go to Jefferson, and now as a singer with the Sounds of Jefferson, she's getting a music education as well, Little said.
But the band is in danger of folding because of lack of funding. The Sounds of Jefferson had about 14 members last year, but this year the number has dropped to five. Little hopes that more funding can get more kids to join up and encourage more parental and staff support.
But there's more to the story. After several years at Jefferson, Little went on to head the music program at Portland Community College's Cascade Campus. He then moved to California to work in the music industry and started a performing band for young people, the Heatwave Jazz and Show Band, which toured regularly and in 2016, and even performed at the Newport Jazz Festival.
The Heatwave band performed at Jefferson about four years ago at the invitation of Vice Principal Ricky Allen, and about a year later Little started a Portland chapter, the Pacific Northwest Heatwave Show Band, based at Jefferson. Then he re-started the Sounds of Jefferson at the school.
The 15 members of Heatwave come from all over the Portland metro area, and although the Heatwave organization is nonprofit, there is still a $75 monthly charge for high school students. Graduates are welcome for free. But Little wants to keep the Sounds of Jefferson free for all kids.
The problem is lack of money. Fundraisers and a gofundme campaign last year raised only about half the $10,000 needed annually, so Heatwave has been underwriting Sounds of Jefferson.
But Heatwave is going into debt as a result even though resources are shared, said Sounds of Jefferson Director Estefania Tapia. To raise funds to help keep both programs alive, a gofundme account has been set up at gofundme.com/heatwavemusicproject.
"We feel like if we get the funding it would get the Jefferson band off the ground," she said. "And if we had a general startup to fund both bands, it would benefit everyone."