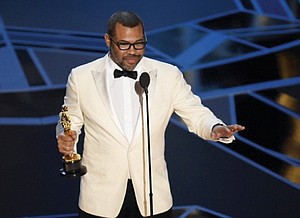 Writer and director Jordan Peele, 39, made movie history Sunday by becoming the first African American to win an Academy Award for best original screenplay for the movie 'Get Out.'
"I stopped writing this movie about 20 times…I thought it was impossible," the former sketch comedy star said while accepting the award. "I want to dedicate this to all the people who raised my voice and let me make this movie."
The film, which satires racism, was a box office smash and critical darling when it hit theaters one year ago. It was also the first time a black writer-director hit $100 million in revenues with their debut film.
"Get Out" previously brought Peele a Directors Guild award; best feature and best writer awards at the Independent Spirit Awards; and for best original screenplay by the Writers Guild of America.
The Academy also nominated "Get Out" for best picture and Peele for best director.