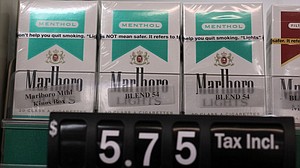 The Highland African American Youth Community Coalition and Multnomah County have been "talkin' tobacco" for a few years.
In June 2015, youth and adults came together for a day-long tobacco prevention training session called "Becoming a Power Player." The group learned about the predatory marketing of tobacco in African American communities and what the policy-making process looks like. Youth learned to develop their own messages and tried them out on staff from the Multnomah County Commission.
The Highland coalition has been active in protecting our youth from easy access to tobacco by supporting licensing at retailers of tobacco products and raising the legal age to buy tobacco to 21 years old, rules which have been in effect since the New Year.
Now we are talking about restrictions on menthol flavored tobacco – the product of choice among many African Americans, youth and underserved communities.
Mona MacDonald, Highland Haven REACH (Racial and Ethnic Approaches to Community Health) program coordinator, in collaboration with Multnomah County REACH staff, are delivering powerful presentations about the harms of menthol cigarettes
When a room full of youth were recently asked 'does anyone smoke or know someone who smokes menthols' all hands went up.
"We know this is an important topic to talk about, but it's a hard discussion to have," MacDonald says.
For the overwhelming majority of African Americans and youth who smoke, menthol is their product of choice. Nationally, 95 percent of black smokers use menthol cigarettes! African Americans who smoke in Multnomah County die from smoking related diseases, infant mortality, colorectal cancer, lung cancer, stroke, diabetes, coronary heart disease and all cancers, at a higher rate than all other smokers.

Despite the myths about the safety of menthol vs. regular cigarettes, there is no medical value or health benefit of using menthol cigarettes. Rather, the product is actually more harmful, because the menthol flavoring (which is the one flavor that is still legal for cigarette products) results in people taking a deeper draw with each inhalation of the cigarette. This means more of the cigarette's toxic chemicals find their way into the lungs and bloodstream of the smoker, meaning more sickness and death from smoking-related illnesses.

Menthol is more, not less addictive, than regular cigarettes as well. Menthol increases the amount of nicotine in the blood, making cigarettes more addictive and harder to quit. Research has found that people who smoke menthols have a harder time quitting smoking, especially African American women. But people are not generally aware of this when they take up the habit, often thinking they can quit whenever they decide.

For all these reasons, cities throughout the country are banning the sale of menthol cigarettes (San Francisco, Oakland, Sonoma, Chicago, New York and Berkeley). Several other countries already have prohibited the sale of menthol cigarettes as well.

Highland Haven REACH program, in partnership with Multnomah County Health Department, is available to come and share with your organization or youth group information about menthol and to hear your ideas about what we can do about it.
If you are interested, please email Sandra Meucci at andra.meucci@multco.us. Let's keep "talkin' tobacco" and figure out how we can help our community!
De'Shawn Hardy is a coordinator with the Highland African American Youth Community Coalition.