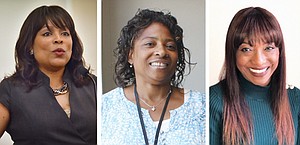 The Portland Observer is proud to make the following endorsements for the May 15 Primary vote-by-mail election. These candidates have deep, personal connections to our community. We know them well, respect their abilities and honor their proven records of success:
Loretta Smith –Portland City Council, Position No. 3
Lorreta Smith is a passionate and effective leader who deserves support as she seeks election to Portland City Council. Her deep connections the community, extensive experience in the political arena, and record as a fighter for the disadvantaged who doesn't give up will serve Portland well.
Smith is currently serving her second 4-year term as a Multnomah County Commissioner and prior to that she spent two decades as a former assistant to U.S. Sen. Ron Wyden. She has an impressive record of accomplishment for making lives better for others, especially for helping members of the black community and others who are struggling.
Smith corralled the funding to start a county summer jobs program for young people in the community that has helped at-risk youth of color. The program started with dozens of participants seven years ago and has grown to help hundreds each year. Other examples of her work include the startup of specific programs working with and educating seniors about scams, and the dangers of opioid abuse.
A leading voice on fighting bigotry, Smith has elevated issues of racism in the county workforce. She brought national civil rights leader Rev. Jesse Jackson to Portland last year to help the city heal in the wake of a double murder on Max public transit tied to a racist incident.
Smith has shown her commitment to creating new and robust opportunities for affordable housing and home ownership. She fought a losing battle to open the Wapato Jail as a temporary shelter in the battle against homelessness, but one that still has life through private developers.
Sharon Maxwell – Multnomah County Commission, District 2
Sharon Maxwell has experience in creating jobs as a minority contractor and together with her advocacy on behalf of struggling families makes her an excellent choice for Multnomah County Commissioner.
As a mother and grandmother, Maxwell has been a trail blazer for breaking social barriers. She entered Portland's male- and white-dominated construction field after graduating from Portland Community College's Skill Center construction program 25 years ago. She later formed her own company, Bratton Construction, and was named as one of PCC's 'diamond' graduates in 2012 for her success as a business owner and civic leader.
Maxwell has the skills and background to promote transparency and accountability in how the county spends public tax dollars. She also has the background and experience to tackle discrimination complaints in county workplaces, important issues that have dominated recent discussions on the commission.
D. Bora Harris -- For Multnomah County Chair
D. Bora Harris is a needed voice from the black community and a top choice for new leadership as chair of the Multnomah County Board of Commissioners.
Harris has been active in politics and has worked with various community organizations for decades to make lives better for others. She has a plan to stop institutional and systemic racism in the county workplace by creating an Ombudsmen office, and by resurrecting a merit council to represent union and non-union workers when a work-related complaint is filed.
Harris has the right priorities as she also works on behalf of the elderly and homeless people, for affordable housing and for the interests of children.
She holds a master's degree in public administration and has a record of success in business and community building. As president of D. Harris Leadership Institute, Harris developed a "Move Beyond Your Walls Initiative" to give hope and guidance to individuals breaking the chains of despair and for building new links to upward mobility.