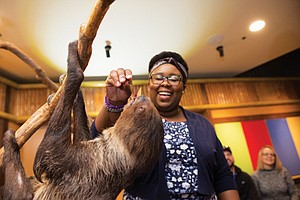 Visitors can get up-close and personal with even more of the Oregon zoo's residents.
New behind-the-scenes animal encounter tours range from a painting session with macaw artists Pele and Makani to a meet-and-greet with the zoo's lively Humboldt penguin colony. All encounters include a talk from a zookeeper and the chance to ask questions, take photos and spend time with the animals in an intimate setting.

"People have been completely enthralled," said Bree Winchell, who leads the encounters with Josie, the zoo's two-toed sloth.
In addition to meeting Josie, guests can pet Bebeto the porcupine or take selfies with sea otters — and Instagram stars — Eddie, Juno and Lincoln. For a fuzzier experience, behind-the-scenes tours are also available with the goats and ducks of the Family Farm and the tarantulas of the Insect Zoo.
All animal encounters require tickets and reservations in advance, and some member discounts are available. More information can be found at oregonzoo.org/encounters.