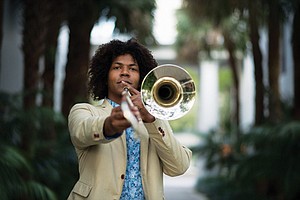 Javier Nero, a young jazz trombonist, composer and bandleader who grew up in Portland and Vancouver, is slated to record his first full professional studio album in the coming weeks and a crowd sourcing campaign has been launched to help him cover the expenses.
Nero, 27, is a four time international award winning soloist, composer and arranger. He graduated from Evergreen High School in Vancouver and has garnered a degree from the Juilliard School in New York City, and a doctorate from the Frost School of Music at the University of Miami.
Currently based in Miami, he is performing, teaching and touring with various ensembles, and is slated to record his first full album as a leader entitled "Freedom" later this month. The project will feature Shelly Berg and Brian Lynch, two Grammy Award winning musicians, and 10 of Javier's all original compositions and arrangements.
An indiegogo "crowd-sourcing" campaign was launched last month to help raise money to cover the many expenses that go into making a professional studio album. You can learn more about the project and donate by searching for "Javier Nero" at indiegogo.com.