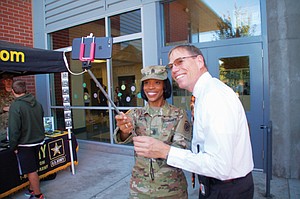 Service, teamwork, and career opportunities are what are in store for people who join the Army. That's the message from Sgt. Maj. Tabitha Gavia, the first female senior enlisted leader in U.S. Army Recruiting Command history.
Gavia made stops in the Portland area last month to visit Armed Forces recruiting stations and local schools. Based in Fort Knox, Kentucky, she is essentially the right hand for the command general in charge of recruiting for the entire country, officials said, which means being responsible for enlisting more than 90,000 people for Army jobs.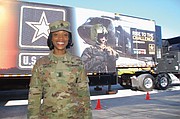 Recruiting for the military is a challenge, especially in Portland where there is a lack of knowledge about military life because of a low military presence in the area, a relatively low unemployment rate, a high volume of white color jobs, and high college enrollment rates.
Nationally only about 29 percent of youth 17-24 years old qualify for military service, and a full 50 percent of those youth know little to nothing about military service, according to the U.S. Army Recruiting Command.
Gavia, 49, is at the peak of a 30-year career in the Army. During her recent visit, she spoke with high school students in Vancouver about the benefits of joining the Armed Forces and let them inspect and participate in demonstrations of some real military hardware like flight simulators.
She wanted them and others to know they too can find the level of success and satisfaction she had by joining.
"I can think of no greater honor than service to country. And believing and doing something greater than yourself. And so that is my reason for serving," Gavia told the Portland Observer.
With benefits like tuition assistance, traveling to different countries, and instilling good work ethics, Gavia said there's a variety of Army jobs that can appeal to just about anyone.
"Whether you are the adventurous type and you want to go down that route, or if you're interested in STEM and you want to do science and technology....everything from medical jobs to intelligence jobs to learning how to speak Arabic and Chinese...I mean there's a wide range of jobs out there for young people. And it certainly should be considered an option," she said, adding that becoming a doctor or lawyer are also viable military career paths for enlistees.
Throughout her own Army career, Gavia has garnered a long list of impressive jobs working in the physics, medical, and leadership fields. She also has an associate's degree in technology, a Bachelor of Science in liberal arts, and a Master of Business Administration.
As the recipient of multiple honors through the years, including the Legion of Merit, Bronze Star Medal, and Meritorious Service Medal, Gavia said the Army can help young people stick with goals they've set out for themselves, just as it did for her.
"When they leave the military, they do better in college. People who serve in the military generally vote…they generally make their invested interest in the community known," she said.