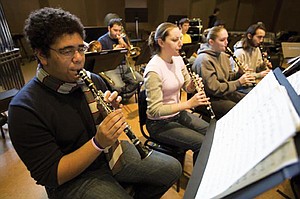 Clackamas Community College music students are ready to bring some holiday and winter music to your ears. From jazz to choral to acoustic, there's a performance for all tastes on four nights during the last week of November.
Instrumental Jazz Night -- The Clackamas Jazz Ensemble and Jazz Combo will perform traditional and modern jazz on Tuesday, Nov. 27. Guests will also enjoy an original composition that has roots in an old Bob Dylan song from local composer Charley Gray.
Contemporary Music Ensemble Concert -- The Contemporary Music Ensemble will bring students from diverse musical backgrounds together on Wednesday, Nov. 28. Explore the genres of contemporary music: pop, rock, blues and electronic.
Classical Guitar Ensemble and Wind Ensemble Concert -- The CCC Wind Ensemble will play music from Leonard Bernstein's "On the Town," as well as traditional and modern works from other composers on Thursday, Nov. 29. The CCC Guitar Ensemble will perform Catalan folk songs and put a new spin on an old classic.
Mainstream and Chamber Choir -- CCC's Chamber and Mainstream choirs will perform familiar holiday carols and new takes on old favorites on Friday, Nov. 30.
All performances are at 7:30 p.m.in Niemeyer Hall on the Oregon City campus. Admission is $5.