Portland once again is enjoying the soul food offerings of Reo's Ribs. The popular black-owned restaurant in the Hollywood District reopened this month after a fire totaled the interior of its historic building a year-and-a-half-ago.
"We're just glad to be back open" owner Reo Varnado told the Portland Observer.
Varnado said his Mississippi-style barbecue has been drawing the crowds since its soft re-launch three weeks ago.
"It's been packed every day, everybody enjoying the food…And we're just having a blast 'cause people come from all around the United States," he said.
In May 2017 the building was heavily damaged in a suspicious, overnight fire in which people were reportedly seen running away from the scene when it happened. No arrests have ever been made.
Varnado, who is the uncle and occasional professional chef to rapper Snoop Dogg, was in California at the time as a guest on Martha and Snoop's Potluck Dinner Party, which is hosted by Martha Stewart and his nephew. Varnado speculated at the time that he may have been the target of a racially motivated arson.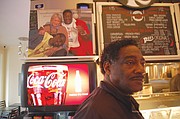 That same month, a GoFundMe page and benefit concert by the Legendary Beyons worked to raise money for the restaurant to pay for the damages. It was announced in November of last year on social media that the restaurant was working to re-open.
Now, one year later, and with a three-tiered grill that can hold up to 600 racks of ribs, the restaurant that was recognized in Gourmet Magazine is slinging soul food like there's no tomorrow.
What's more, the historic Reo's Ribs building has been preserved. Located at Northeast 42nd and Sandy Boulevard, just down the street from Hollywood Theater, the 96-year-old structure originally was built as a trolley stop, and then was the Hollywood Burger Bar from 1954 to 2015. Reo's Ribs took over in 2015 after bouncing around three prior locations since 1999.
Though the fire damage was described as extensive by firefighters at the time, the renovations since has rendered it a "new building inside," Varnado said.
Varnado, who has cooked for famous celebrities like Beyoncé and Jay-Z, added he's in the planning stages for a celebratory grand re-opening event where hopefully his famous nephew can stop by.