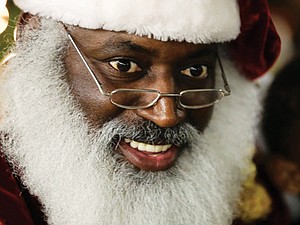 As the holidays are upon us, the Portland Willamette Valley Chapter of Jack and Jill of America, is pleased to announce that Black Santa will visit the Portland area once again!
Since 2014, the organization has planned and hosted a Black Santa event as means to provide a local, more diverse Santa Claus option for families with black children, and for all communities seeking to enjoy a festive meet and greet Santa Claus
Last year, over 400 attendees from all over the Portland metropolitan area enjoyed having their photo taken with Black Santa. Proceeds from the event raised money for Albina Head Start, the intended beneficiary again this year.
Black Santa will be at the Matt Dishman Community Center, 77 N.E. Knott St., on Sunday, Dec. 9 from 3 p.m. to 5 p.m. The cost for a framed color photo with Black Santa is $20 (cash only). Free treats, prizes and games will also be distributed.