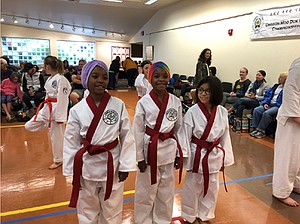 Northeast Boys and Girls Club members are excelling in the martial arts. Congratulations to seven students from northeast Portland who recently took home trophies at the 2018 Moo Duk Kwan Championships in Lake Oswego.
Among the winners were Jeremiah Childs (red belt), who won second place for sparring and third place for forms; Yestin Norman (green belt), who won third place in sparring; and Andrew Esperanza (orange belt), who took first place win for sparring.
Red belts Malcolm Bunyoli, Olivia Edwards-El, Gracie Edwards-El, and Angelie Fitz-Cortez, who also train out of the Soo Bahk Do program at Blazers Boys and Girls Club, also participated.
Boys and Girls Club martial artists' instructor Sa Bom Chuck Smith, who is a 6th degree black belt, lauded his students' efforts.
"Everyone did a great job and demonstrated excellent discipline and spirit," he said.
Soo Bahk Do is a traditional martial art originating in Korea many centuries ago. It is noted for its explosive kicking techniques and dynamic hand strikes. Harmony of body, mind, and spirit is also emphasized. The program seeks not only to prepare students for physical defense, but to build character in a safe, non-contact environment, according to Smith, who has 28 years of experience in the sport.
Portland Soo Bahk Do is hosted at the Blazers Boys and Girls Club on 5250 NE MLK Jr. Blvd. Tuesdays and Thursdays from 5 p.m. to 6 p.m. There is no charge for students who are club members.