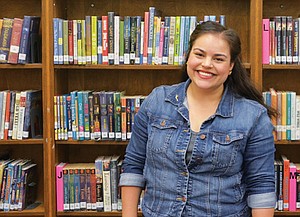 As Beach Elementary School's librarian, Ayn Reyes Frazee is committed to reflecting the north Portland school's unique diversity in its book collection, and her dedication and diligence have earned her a prized fellowship.
The Association for Library Service to Children, a worldwide professional organization, has awarded Reyes Frazee an equity fellowship, one of six it awarded this year. She impressed the selection committee with her dedication to equity, diversity and inclusion.
In her fifth year at Beach, Reyes Frazee started at the school when it had not had a certified librarian for several years. She curated Beach's book collection into one that would benefit a school like Beach with its 37 percent Hispanic student body; 11 percent black and African American enrollment; 16 percent English language learners; Spanish dual language immersion program and 11 different language spoken by families.
As she built Beach's collection, Reyes Frazee made a priority of adding books that reflect "casual diversity." There were enough books featuring black children that were about slavery, and books featuring Hispanic children that were about migration or being undocumented.
"We've got black and brown children that go to our school for whom that can feel really crummy if that's the only representation of your culture that you're seeing in literature," she said. "I'm looking for books that feature kids of color and it's about computer coding, or it's about making crafts with your friends, or it's about something that isn't that stereotypical black or brown experience that we see represented so much in media.
"That is really important, just to have literature like that available, and it hasn't been in the past," she said.