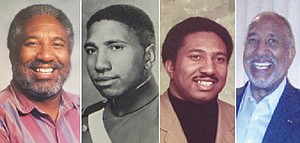 He was a member of the Air Force Academy Association of Graduates, Order of Daedalians and Kappa Alpha Psi Fraternity, Inc.
Ike loved life and sharing it with friends. He had a passion for helping others and was active in local charities such as Meals on Wheels and the Senior Citizens Center. He was a member of the First Unitarian Church of Albuquerque. His hobbies were listening to jazz and attending jazz festivals, researching family ancestry, traveling, reading and studying history.
He was loved and admired by his many friends, his fellow AFA graduates, military buddies and his family. He will be sorely missed by all of them.
A service will be held on Nov. 7, 2018 at 11 a.m. at the USAF Academy Cadet Protestant Chapel in Colorado Springs, Colo., with inurnment following at the USAF cemetery and then a reception will be held at the AOG building, Doolittle Hall. His family has suggested that if desired, memorial donations be made to the Meals on Wheels of Albuquerque; PO Box 92614; Albuquerque, NM 87199; 505-823-8060 www.mow-nm.org.

A memorial will also be held in Albuquerque, N.M., in early December 2018. Condolences may be sent to his family in care of his daughters; Mrs. Kimberly Carter; 769 Adobe Pl; Chula Vista, CA 91914-2408 or Mrs. Noralyn Clemons; 24413 Leonard Tree Lane, Unit 204; Santa Clarita, CA 91321. Condolences may be left online at www.danielsfuneral.com.