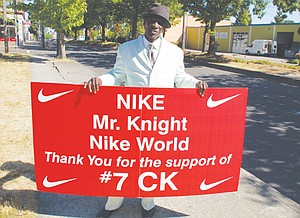 Nike got some community support last week when it made former NFL quarterback Colin Kaepernick the face of its 30th anniversary 'Just do It' advertising campaign.
Lawrence Jefferson, a Vancouver resident and Portland native, made a sign praising Nike for its decision and displayed the billboard at Nike headquarters in Beaverton and along Martin Luther King Jr. Boulevard in Portland.
Kaepernick was in the Portland area Thursday to view the premiere of the highly anticipated Nike ad. The former San Francisco 49er became a voice for civil rights and justice two years ago when he started taking a knee during the playing of the national anthem in protest of officer- involved shootings of black Americans.
At Nike's "Just Do It" 30th anniversary event, participants viewed the commercial spot featuring Kaepernick and other black athletes which premiered during the NFL season opener.
The star athlete addressed Nike officials and the public, mentioning his litigation against the NFL for being locked out of the game, saying, "We wouldn't be able to do this without your support, so special thank you to everybody and thank you for believing in me, as well as Nike and being able to do this."