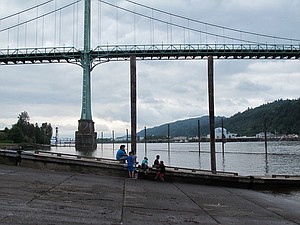 A group of advocates overseeing work to clean up the Willamette River invite supporters to join them at Cathedral Park in north Portland this Saturday, Sept. 22 for a day of healing as local Native Americas join them for traditional songs, prayer and dance.
Portland Harbor Community Coalition Coordinator Cassie Cohen says the ceremony will be a great example of how Metro regional government, the event's primary funder, is now supporting grassroots, community of color organizations to provide impactful events and greater access to nature.
"Our communities have been disconnected from the Willamette River," Cohen said. "This event gives us a rare moment to collectively reflect on what we want for our river, its people and wildlife."
The coalition is fighting for an equitable cleanup of the Willamette taking into consideration the most-impacted communities impacted by decades of pollution in the water, river bottom and beaches. The federal cleanup project is expected to cost $1 billion over several years and offer remediation for a stretch of the river from the Broadway Bridge to Sauvie Island.
Saturday's ceremony, scheduled from 10 a.m. to 2 p.m., is a continuation of several we've had over several years," said American Indian Movement, Portland chapter elder Art Mcconville. "We believe the power of prayer will protect everything from the harmful effects of the pollutants in the water, and will restore spiritual life to the water itself," Mcconville said.
For more information about the event, email Portland Harbor Community Coalition media coordinator Donovan Smith at dmsmith106@gmail.com or call 503-756-6128.