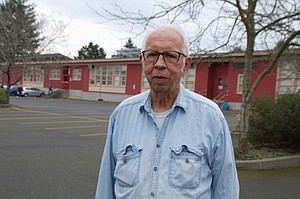 The culturally diverse De La Salle North Catholic High School has signed an historic agreement paving the way for its move from the Kenton Neighborhood of north Portland to the St. Charles Parish, a diverse congregation in the Cully Neighborhood of northeast Portland. It means co-locating the high school to the former St. Charles Elementary parish school at Northeast 42nd Avenue and Emerson Street. Future work will be needed to remodel and expand the school's footprint to accommodate the high school's curriculum and related activities.
The faith-based prep school was forced to look for a new location when Portland Public Schools decided not to renew a lease for the building it currently uses, the former Kenton Elementary school on North Fenwick Avenue, which expires in June 2021.
De La Salle is focused on providing a high quality high school education to low-income residents and students of color. It enjoys a lower-than-average tuition when compared to other private Catholic high schools in Portland, in part thanks to a unique work-study program.
The St. Charles property includes a former parish grade school that was active from 1950 until 1986. Though its 16 classrooms were used for various community activities since then, that usage has slowed in recent years, St. Charles Parish Priest Father Elwin Schwab told the Portland Observer.
"Suddenly we got a building that doesn't have enough use. So this is going to work really good," Schwab said.
Moving the school into the Cully Neighborhood, one of the most diverse and economically-challenged neighborhoods in Portland is also expected to better position the school to serve families in need.
"Getting more people who don't have opportunities into the system… well hey, that all works together," Schwab said.
St. Charles Church will maintain its current operations, including parish offices for staff members and the St. Vincent de Paul food bank.
The specific terms of the lease are still being worked out by the school and the parish, but they've already signed a letter of Intent to a 50-year lease with two 25-year extensions. The school's move eastward coincides with a similar migration of low income and minority students in Portland in recent years due to gentrification, the state of the housing market, and other factors.
St. Charles Parish serves the ethnically diverse neighborhood of Cully, which is the largest neighborhood geographically of northeast Portland. Sixteen percent of its residents are black, and 21 percent are Hispanic or Latino, according to the 2010 census. Comparatively, over 80 percent of De La Salle's student body is comprised of people of color—including 33 percent African American and 38 percent Hispanic.
The selection of St. Charles for De La Salle comes after a search of 40 locations by the school's board of trustees, a months-long process following Portland Public School's announcement last May that they would not renew the Kenton lease.
De La Salle President Oscar Leong said he was pointed in the direction of St. Charles by Board Chair Patti O'Mara after taking up his position in July, having relocated here from California.