My annual trip to attend the Full Frame Documentary Film Festival in Durham, North Carolina, always yields a crop of films that would be hard to find any other way. I saw 16 feature-length films over the four-day festival; I'll cover eight here and the rest next week.

As it happens, one of the best films I saw opens at Cinema 21 in Portland on Thursday, April 11--a long-delayed Aretha Franklin concert film called "Amazing Grace." In early 1972, 29-year-old Franklin, at the height of her career, recorded a gospel album at the New Temple Missionary Baptist Church in the Watts neighborhood of Los Angeles. The album is not only one of the most popular gospel records of all time, but is Franklin's bestselling album. Sydney Pollack was on hand to film the event over two nights, but the film portion of the project was shelved because the sound and images were not in sync, and the film was only finished after Pollack's death. Its release was delayed by the wish of Franklin herself, although her family readily consented to its release after her death last year.
The film's release all these years later feels, if anything, more impactful; we have the opportunity to watch the young queen of soul singing black gospel music in exactly the setting and with the exact community where such music is meant to be played, and the film conveys something of the music's genuine meaning for her. She is accompanied, thrillingly, by gospel legend Rev. James Cleveland and the Southern California Community Choir, and watching them thrill and respond to Jackson's glorious singing is itself transporting. The film feels so intimate, capturing the sweat of Franklin, Cleveland, and the other singers and the spontaneous emotional response of members of the choir and congregation, which includes Mick Jagger and Franklin's minister father. Franklin is particularly fascinating to watch; she expends vast quantities of energy, mostly with only a very slight smile, and, indeed, seems to contain an otherworldly combination of fire and stillness.

The film recently premiered at this same church, with some of the choir members and the choir director in attendance. That feels only fitting; we are invited in to what was for them an epic experience of worship. What a gift!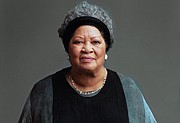 Full Frame this year featured a range of truly wonderful biographical documentaries, each taking a uniquely effective approach to its subject. My favorite was "Toni Morrison: The Pieces I Am," which examines the cultural and literary legacy of the great Nobel Prize-winning author. The film capitalizes on the fact that Morrison, now in her 80s, is herself a great interview subject; in an extended interview for the film and also in clips from many past interviews, she dazzles with her perspective on her work, on black experience, on the publishing world--well, on pretty much anything. The film also makes excellent use of interviews of others (such as Angela Davis and Oprah Winfrey) with whom Morrison shares important intersections--people who were influenced and inspired by her writing, her contemporaries, her longtime editor. Their cumulative impact helps us to better appreciate the remarkable clarity and resilience it took to produce such a brilliant body of work that is so singularly and unapologetically focused on African American experience, particularly at a time when that subject matter was considered absolutely unworthy of literary notice. In addition to archival footage of Morrison herself, the film also carefully curates visual art from other African Americans in a way that lifts up Morrison's thematic significance. Morrison inspires as someone who managed, by the sheer force of her intellect and personality, to bring an astounding amount of light into the American literary landscape. Watch for the film's theatrical release sometime this year.