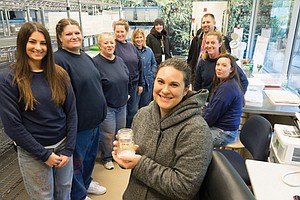 Bringing butterfly conservation work into a medium-security prison is a rewarding process for the women inmates at the Coffee Creek Correctional Facility in Wilsonville.
For much of the past year, the women in custody raised and cared for Taylor's checkerspot butterfly larvae as part of a collaboration with the Oregon Zoo, U.S. Fish and Wildlife Service and the Institute for Applied Ecology.
They recently transferred 476 of the growing caterpillars back to conservation biologists for release on western Oregon prairies near Corvallis, and another 246 were scheduled for release this month. It is the second-ever release of Taylor's checkerspots in Oregon — the first being last year's inaugural release of 562 Coffee-Creek-reared caterpillars — where only two known populations of this rare Northwest butterfly remain.
Coffee Creek's butterfly conservation lab launched in May 2017, with funding from the federal fish and wildlife agency and the help of an Oregon Zoo Foundation grant. Zoo staff taught inmates how to care for butterfly eggs and raise larvae, supporting their efforts along the way. In 2018, inmates also learned how to care for the adult female butterflies that lay the thousands of eggs needed for the program's success.
In addition to the inmates that rear the Taylor's checkerspots, another team of inmates is dedicated to the care and harvest of the 2,200 plantago plants that feed the larvae.
Though once abundant across the inland prairies of the Pacific Northwest, the Taylor's checkerspot has now lost 99 percent of its grassland habitat to successional plant growth, agriculture and urban development. And while the butterflies themselves are small, the restoration of their high-quality native prairie habitat also benefits a multitude of other species associated with this ecosystem.