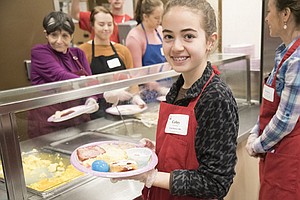 Union Gospel Mission expects to serve 500 free meals to those experiencing homelessness or anyone in need on Easter Sunday, April 21 from 10 a.m. to 1 p.m.
This year's menu consists of ham, scrambled eggs with cheese, biscuits with sausage gravy, a fruit cup, cinnamon rolls and coffee, orange juice and water to drink. The mission is also assembling 500 gift bags which will include socks, hand warmers, a hat, and a hygiene kit.
More than 120 volunteers will be involved in preparations and serving the day of the event.

On Monday, donations were still needed the event.
"We could use more hams for our Easter celebration as well as ground or whole bean coffee," said Lori Quinney, Union Gospel Mission food service coordinator.