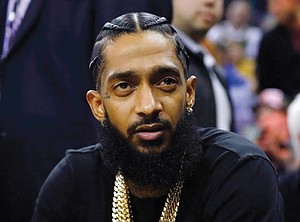 (AP) — Nipsey Hussle's legacy as a persistent rapper, community activist, uniter, doting father, protective sibling and a loving son were underscored at his public memorial service on Thursday, with deeply personal testimonies from those closest to the rapper, including his actress-fiancee Lauren London, collaborator and dear friend Snoop Dogg and his mother, who said she was at peace with the death of her "superhero" son.
Beyonce and Jay-Z were among the big-name celebrities who attended the three-hour event in Los Angeles at the Staples Center, where the last celebrity funeral held at the concert arena was Michael Jackson's in 2009.
The arena was packed with more than 21,000 fans and drove home the important impact Hussle — just 33 when he died — had on his city and the rest of the world.
Anthony Hamilton invoked the spirit of a church service when he performed in Hussle's honor. Nation of Islam leader Louis Farrakhan hailed Hussle's ability to bring different factions together. And blogger and media figure Karen Civil read a letter sent by former U.S. President Barack Obama, who wrote that he never met Nipsey but heard of his music through his daughters.
"While most folks look at the Crenshaw neighborhood where he grew up and only see gangs, bullets and despair, Nipsey saw potential. He saw hope. He saw a community that even through its flaws taught him to always keep going. He chose to invest in that community rather than to ignore it," the Obama letter read. "He set an example for young people to follow and is a legacy worth of celebration. I hope his memory inspires more good work in Crenshaw and communities like it. Michelle and I send our sympathies to Lauren, Emani, Kross and his whole family and to all those who love Nipsey."
Father Thomas Uwal read a scripture in Tigrinya — the native language in Eritrea, the African country where Hussle's father was from. Uwal spoke of Hussle being "proud to be an Eritrean-American," later saying to the late rapper's family: "On behalf of all Eritreans ... we say our condolences to you."
Hussle was slain last month in front of a store that he tried to use to empower his South Los Angeles neighborhood
The hearse carrying Hussle's coffin went through a 25-mile (40-kilometer) lap through the city, including past the property where Hussle had planned to turn an aging strip mall into new businesses and affordable homes.
Thousands of people crowded the streets, some on bicycles and motorcycles, following and surrounding the vehicle as it slowly wound its way to the funeral home. The silver Cadillac passed the rapper's childhood home in Watts. It came to a halt at times, unable to move in the vast crowd of people.
Eric R. Holder Jr., who has been charged with killing Hussle, has pleaded not guilty. Police have said Holder and Hussle had several interactions the day of the shooting and have described it as being the result of a personal dispute.
--Associated Press