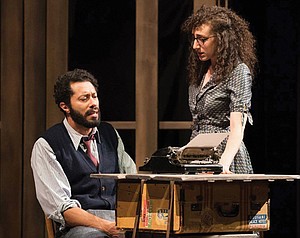 Paula Vogel's beautiful play about Jewish identity, "Indecent," grapples with themes of outsiders facing threats to their freedoms and basic human rights, apropos in an age when synagogues face a resurgence of deadly violence.
What does it mean to show up as oneself, when one exists at the margins of privilege and identity? How does one withstand pressure to conform, to assimilate, to succeed on terms that function to erase that which makes us distinct?
It is a struggle familiar to immigrants and outsiders of all kinds, those of us who have faced the hazards of annihilation or demonization or oppression or genocide. To be accepted--indeed, to survive at all--often involves erasing ourselves or our communities, accommodating the pressure to blend in and to validate how the dominant group defines goodness and success.
"Indecent," playing at the Oregon Shakespeare Festival in Ashland through October, grapples with these questions with insight and humanity, holding them open rather than answering them. A cast of seven Jewish actors, diverse in terms of age and racial identity, appear in a variety of roles, including as actors in various productions of "The God of Vengeance," a touchstone of Yiddish theater. The story of that particular play becomes the vehicle to inform us about the play's vibrant lost history, and to help us grapple with the questions of identity that continue to plague the Jewish community.
It is hard to capture just how compelling and relevant this deep dive into Yiddish theater actually is. It was news to me--as, I expect, to most people--that in 1906, a young Polish-Jewish writer, Sholem Asch, wrote a play that was perhaps ahead of its time and perhaps outside of time itself. In "The God of Vengeance," an innocent Jewish girl, Rifkele, who is the daughter of a brothel owner and a former whore who aspire to respectability, falls in love with Manke, one of the prostitutes who works for her father. In their quest for respectability, Rifkele's parents have commissioned a Torah (the sacred handwritten scroll of the first five books of the Jewish scriptures) for their home, not because they are so pious but in order to attract a good husband for their daughter. When they discover Rifkele's relationship with Manke, the brothel owner, in a scene that shocked even the least observant Jews, angrily discards the Torah, and casts out his wife and daughter.

At its first reading in Warsaw in 1906, the play shocked and offended people with its depiction of two women in love, its sacrilegious treatment of the Torah, and its centering of characters who were not at all the sort that a marginalized community would want to highlight. The play was written in Yiddish, the mother tongue that tied together the community of Ashkenazi Jews in Central and Eastern Europe at the time, a beleaguered community that had endured centuries of pogroms and segregation. At the time the play was written, Jews disagreed about whether interaction with the secular, non-Jewish world would help or hinder their survival as a community, and what such interaction should look like. The first professional Yiddish theaters in the 1870s were part of a movement toward making Yiddish a language of the arts, philosophy, and science--but Asch's play was viewed by many in that world as shaming the Jews in front of Gentiles.