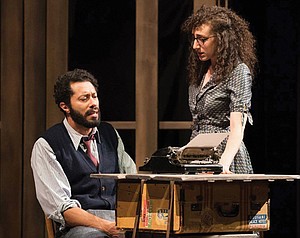 Nevertheless, "The God of Vengeance" found surprisingly enthusiastic audiences for many years, with successful productions all over Europe in several different languages. Its reception in the U.S. was more mixed; a Yiddish production in New York in 1907 sparked disagreements in the Yiddish press over whether the play was indecent or an artistic triumph, and an English-language production in 1923 (which revised the play to darken the relationship between the two women) was shut down for obscenity, supported by the testimony of a prominent rabbi. The play simply did not portray who American Jews wanted to be in the world, and eventually Asch, after the Holocaust, banned further productions of it.
"Indecent" becomes a compelling rumination on this history. We follow the playwright and his wife; a tailor who becomes so inspired by the first reading of the play that he spends much of his life managing productions of it; actors who embody the story on stage while experiencing the intersections between their own lives and the play's handling of hypocrisy and forbidden love. As I watched the shifts in the play and the artists, I felt in my body the many times I have experienced pressure to show up in certain ways to benefit my community or to avoid hindering its ambitions.
The design of this production, beautifully directed by Shana Cooper, lifts the play to a plane that feels both deeply embodied and also spiritual. A uniformly wonderful cast that, importantly, includes Jews of color, inspires reverence for the role of art to help us look where we had never thought to look for inspiration and hope. And three on-stage musicians carry the soul of the play in the sounds of the accordion, clarinet, and violin. I left inspired, understood, and grateful to so many artists--including the playwrights Sholem Asch and Paula Vogel--who have lifted these questions and struggles for identity to places that are so hard to reach.
Darleen Ortega is a judge on the Oregon Court of Appeals and the first woman of color to serve in that capacity. Her movie review column Opinionated Judge appears regularly in The Portland Observer.