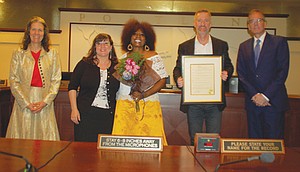 Antoinette Edwards, a retiring public servant and advocate from the African American community who has directed the Portland's Office of Youth Violence Prevention since 2011, had her last day on the job declared as an official day in her honor last week by the Mayor and Commissioners.
Edwards, 66, is known for creating the Community Peace Collaborative, a public forum which facilitates biweekly meetings where difficult conversations take place between community members and police. The topics range from officer-involved shootings and abuse to reconciliation and ideas for reducing violence among youth and take place at the North Portland Community Policing Center at Northeast Emerson Street and Martin Luther King Jr. Boulevard.
"There are few people I would call a hero. You're a hero," remarked Mayor Ted Wheeler at the special ceremony at City Hall, calling Edwards the glue holding the community together and one who lent a voice to those that had none. He declared July 31 as "Antoinette Edwards Fierce Advocate Day" in Portland.
Commissioner Amanda Fritz said Edwards was "inspiring," and Commissioner Nick Fish expressed gratitude to her for "being a role model."
The emotion in the air was evident when Wheeler read the city's proclamation aloud as Edwards' husband, Keith, shed tears of joy.
Edwards said she was "in gratitude for the love. I feel the love." In her closing remarks, she addressed the city directly.
"Portland, we don't have to make it great again. Just keep it good and make it better…my parting words for the community, beloved community: we are so much stronger together," she said.
Edwards was known for inviting in and getting buy ins from ex-gang members who have turned a new leaf and re-integrated back into the community to participate in the round table discussions, with some even being hired to perform youth outreach for those in gangs or on the cusp of adopting the lifestyle, in order to prevent them from continuing in activities that promote violence.
The office more broadly advanced trauma informed care to create a space for healing. Edwards was thanked for being the change agent to make that possible.
Edwards told the Portland Observer she was "humbled beyond words" by the proclamation and attributed the honor to the power of community.
"I've had the opportunity to work with people and their grief with trauma, losing loved ones to gun violence… from being wounded to using their wisdom to help others…. If it wasn't for community, I wouldn't be here."
She added she'll "never retire from the community," but is looking forward to spending more time with her grandkids and husband.
Edwards served four mayors during her tenure with the city. She received multiple awards for her advocacy, including the Gladys McCoy Citizen Involvement Award from the Citizen Involvement Committee of Multnomah County in 2009, the 2013 Social Justice Fund Northwest Jeannette Rankin Award, and the 2015 Equity Foundation's Women Who Lead Award.
Edwards will be succeeded by Tom Peavey, a former policy manager for Office of Youth Violence Prevention and former longtime Portland police officer, as interim director of the program, Wheeler's office stated.