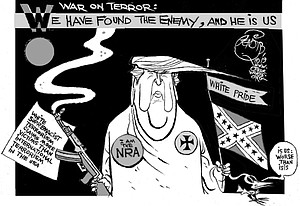 On Aug. 2, I wrote about the relentless scourge of gun violence and the two children killed in Gilroy, Calif. and asked: Why does gun violence remain a uniquely horrible American epidemic and why does it go on and on and on and on? Two days later a new shooting made national headlines when an employee killed two people and injured a police officer at a Mississippi Walmart.
Then came El Paso. 22 died. 24 injured. Then came Dayton. 9 died. 27 injured.
In one week 36 people died and more than 60 were injured not including the dozens of others killed by daily gun violence. A child or teen is killed by gunfire every two hours and 34 minutes in our nation. People of all ages are killed with guns every 14 minutes.
None of this is normal and should not continue to be normalized in the United States of America. In fact it is absurd and morally intolerable in a purported democratic nation where our pledge of allegiance declares liberty and justice for all.
The FBI has opened domestic terror investigations into the Gilroy and El Paso shootings. The El Paso shooter's manifesto echoed the same hateful and racist language permeating our nation, beginning in the Oval Office. We must band together to fight resurging racism and white supremacy with urgency and persistence at every level and in every institution in our national life.
A kindergartener and third grader have shown us the way with their words. They created the slogan behind "Hate Has No Home Here," an awareness campaign that began in a Chicago neighborhood. These children's message of love, nonviolence and insistence that hate has no home here must spread across our nation and world. I urge families, neighbors, businesses, congregations, schools, city halls, communities and all who oppose hate and violence to take up this cause. If you believe everyone in America should be safe from violence and hate, then act! Visit HateHasNoHomeHere.org to download the free artwork uplifting this simple expression of human decency in a number of languages, and display it on posters, yard signs, bumper stickers, buttons and everywhere you can hang a banner or sign.
Everyone should want and work to ensure that our children, grandchildren, friends, neighbors, worshippers, communities, nation and world are safe from terror. But making children feel welcome and valued is hollow if we cannot protect them from the guns that make hate uniquely dangerous in our nation.
Guns lethalize hatred, anger, domestic disputes, mental illness and despair. Easy access to guns—including military-style weapons that should have no place in civilian hands—has made expressions of hate and violence devastating. The shooter in Dayton had an AR-15-style assault rifle with 100-round drum magazines. Police responded and stopped him in 32 seconds. But it took only 32 seconds for him to kill nine people and injure more than two dozen others. The Gilroy and El Paso shooters used similar semiautomatic weapons.