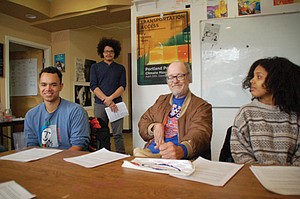 A grassroots effort to bring back civilian volunteers on public transit to help de-escalate conflicts and provide information and support to riders is currently in an unofficial prototype phase, thanks to OPAL—a civil rights and environmental justice organization which stands for "Organizing People, Activating Leaders"—and a bus riders union called Bus Riders Unite.
The grassroots idea is modeled after the "Rider Advocate" program, a similar initiative that was funded by TriMet for 15 years, but ended in 2009. OPAL, which does much of its organizing by speaking with people on buses, often with clipboards, etc., said it's currently testing out the idea by dispatching some trained volunteers.
"We're always going to be on the buses organizing, building community, and this is just one more extension of how we do that, that also happens to be sort of a proof of concept of the model of the rider advocate program," OPAL spokesman Shawn Fleek told the Portland Observer.
The initiative, which has been incubating in the development phase for the past year, is in response to what organizers said is a recent increase in police and security presence on TriMet trains and buses. They hope the revived pilot version of rider advocates will inspire TriMet to fully fund the program again.
As many as 25 volunteers have received de-escalation training through OPAL that readies them to eventually don yellow vests, help resolve conflicts, and show riders how to safely navigate the public transportation system. Some have even ridden on transit already, in this capacity.
Though this revived program has not been officially sanctioned by TriMet, each volunteer is provided a transit pass by their sponsoring groups so they can board transit's public spaces to look out for others and speak with them.
TriMet spokesperson Roberta Altstadt told the Portland Observer that TriMet appreciates the support of community groups that value transit and understand the desire to help others, but the agency would prefer to rely on their own employees for public safety outreach. TriMet currently has paid customer service staff performing the same type of functions as rider advocates, Altstadt said.
"We believe that that role would be better with trained employees and security personnel. We believe that would then increase the safety of our riders and for our employees," she said.
Fleek told the Portland Observer their volunteer program is meant to bolster the accessibility and safety of riders from some of the most marginalized groups, like low income people and people of color.
"[Public transportation is] one of the last places in society that are multicultural, multiclass, multigenerational. All on the same bus you'll have youth, seniors, people with disabilities, people of color, low income people, a lot of moms with kids." Fleek said. "It's really a microcosm of some of the most diverse parts of our society."
Many members of Bus Riders Unite, which includes transit-dependent people and transit riders, have expressed in public forums facilitated by OPAL an uneasiness with the rise of police and uniformed security presence on public transportation, particularly in the months since the May 2017 fatal stabbing of two men who came to the aid of two young girls on a MAX train who were being harassed with racist taunts, Fleek said.