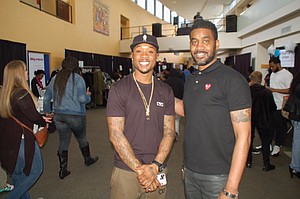 The Center for Self Enhancement on 3920 N. Kerby Ave. has begun a series of free community events this month in honor of Black History Month.
The kickoff was held Saturday when SEI hosted the Junction Avenue Black Owned Business Pop Up featuring and supporting a lineup of products and services offered by locally-owned black businesses.
This Friday, Feb. 7, the educational and family-resource nonprofit will welcome the community to hear special guest speaker Dr. Jason Okonofua give a talk on "Bias Impeding Academic Achievement," presented by the community group Kúkátónón, which is from 6 p.m. to 9 p.m.
On Saturday, Feb. 9, from 10 a.m. to 3 p.m., SEI will host its 5th annual Community Day of Service. The film "The Hate U Give," presented by Black Mental Health of Oregon, will screen on Friday Feb. 15 from 6 p.m. to 10 p.m.; and an African American women's luncheon, We Are Overcomers, which has sold out, will take place Thursday, Feb. 28. For more information, visit selfenhancement.org.