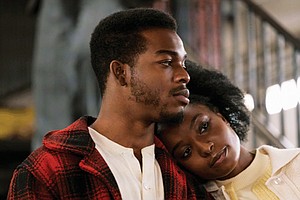 Yet even that much love and that much power can't save Fonny from the fate reserved for him. Another of the film's agonies is how marginalized people are pitted against each other; an affectionate rapport with a Mexican restaurant owner is contrasted with the anguish of the rape victim, a Puerto Rican woman who was instructed by police to identify Fonny in the line-up and then is left to her trauma. The entrenched patterns of senseless brutality feel and are intractable.
In this story, love manages to survive, but it can hardly be said to thrive. It does not cushion Fonny and Tish and those who love them, and their love should not lull us into believing that their losses are uniquely unjust. In this wrenching and beautiful depiction, we are meant to listen, to grieve as we ought, and to aspire to the determination that has been modeled for us, the quality of determination that will be needed to end such suffering.
Darleen Ortega is a judge on the Oregon Court of Appeals and the first woman of color to serve in that capacity. Her movie review column Opinionated Judge appears regularly in The Portland Observer. Find her movie blog at opinionatedjudge.blogspot.com.