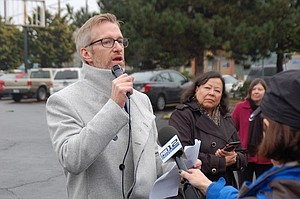 A city ordinance condemning white supremacy and alt right groups will be put before Portland City Council on Thursday, the Office of Mayor Ted Wheeler said.
The resolution is calling for the city to work with community organizations to develop city-wide training on the history and impact of white supremacy, and how to identify white supremacy.
"We have a moral obligation to lead on this issue," Wheeler said. The measure is in part a response to a recent rise in hate crimes, he said.
An hour and a half will be reserved for invited and public testimony, and then the council will vote on whether to adopt the resolution, a spokeswoman from Wheeler's office said.
The ordinance hearing will take place this Thursday, Feb 7, at City Council Chambers in City Hall at 1221 S.W. Fourth Ave., at 2 p.m.