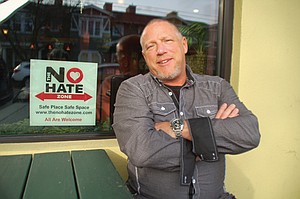 Sam Sachs has been battling racism his entire life.
By promoting equity and diversity through his work as a former Army veteran, football player, law enforcement officer, and later as Human Rights Commissioner for the City of Portland, he's made a name for himself. He's spearheaded an effort for local and state governments in Oregon to adopt variations of an equitable hiring standard, for example, known as The Rooney Rule, in which at least one ethnic minority must be interviewed for leadership roles.
Sachs, who has a bachelor's degree in Black Studies from Portland State University, was an intern for former state Sen. Avel Gordly, the first African-American woman to be elected to the Oregon State Senate, during her last term in the late 2000s. He's also helped in the effort to eliminate Native American Mascots in all Oregon K-12 schools.
Monthly dinners with members of law enforcement and people of color, aimed at improving community relations, was also initiated by Sachs and Noho Marchesi, Sach's friend and owner of Noho's Hawaiian Café at 4627 N.E. Fremont St. Marchesi provides the space and meals free of charge for the dinners. The restaurant dons Sachs' No Hate Zone decal in its window, a signifier that the restaurant is a safe space for those escaping violence and discrimination from white supremacists and other hate groups.
Having grown up as a Jewish kid in a predominately white Christian community at South Albany High School, Sachs said he received his fair share of racial epithets from other kids, who used the Star of David around Sachs' neck as a target for hate and discrimination in the 1980s. At the time, the school's mascot was the Rebels and its logo was the Confederate flag.
"I would be harassed. And people would call me 'k-ke' or 'h-be' or a 'f---ing Jew,'" Sachs, 50, told the Portland Observer.
But being a well-built and skilled football player at the school meant when others picked a fight with Sachs, he fought back and usually won, he said.
"I make no bones about it, I was a tough guy. And I would beat people up. And I got pretty good at it through junior high/high school, the Army, college, probably until I was 26. I would use violence to respond to racism or anti-Semitism," Sachs explained.
He clarified that the fights were always "mutual combat" and never seriously injured anyone or sent them to the hospital.
One night while he was attending and playing football at Western Oregon University in Monmouth, Sachs brawled in what would become a life-changing altercation. Everyone was yelling something during the fight, Sachs said, but he couldn't understand what they were saying.
After the fight, a buddy explained that the people were chanting a rather unflattering nickname, "psycho." "You're a psycho when you fight," the friend told him. Something changed in Sachs when he heard that.
"From that day on, I promised myself I would never use violence ever again. And I would never respond. It was an eye opener, it was an 'aha' moment, because I was like, 'they think I'm crazy,'" Sachs recalled.
Rather than giving up in the fight against racism, though, Sachs would take up his battles through other, more effective, means.

"I still deal with anti-Semitism. But rather than use my fists, I use my mouth, my heart, my head to respond to people. It's much, much more powerful than beating somebody up. Because you can beat somebody up, it doesn't change them. They just probably hate you more or they're more upset because they got beat up by a Jew, the very thing they despise," Sachs said.
After college, Sachs went on to work in law enforcement in various capacities from 1992 to until the late 2000s.
During his stint in the police academy in 1996, Sachs was again discriminated against based on his religion and ended up successfully suing Oregon Public Safety Academy for anti-Semitic comments made during his training there as a corrections officer.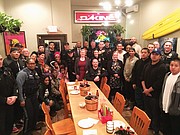 That lawsuit spurred a state task force investigation that eventually determined there were systemic issues in the academy.
Working in law enforcement, Sachs said he did occasionally see discrimination from his colleagues against black and brown people, but emphasized the vast majority of officers he'd worked with were not overtly racist. Some weren't racist at all, while others were uneducated about diversity and race relations, he said.
Still, he'd seen colleagues racially profiling people of color during traffic stops and even worked with a group of men that called themselves "The Brotherhood of the Strong," who beat inmates up in county jails.
Having been on the receiving end of discrimination back at the police academy and having been a member of the honor guard for Multnomah County Sherriff's office for two years, where he regularly attended the funerals of officers killed in the line of duty, Sachs said he has a foot in both worlds. Seeking to reconcile the fight against racism while also remembering cops are human, too, is what led him to do the work he does today with the monthly dinners at Noho's, which he calls Breaking Bread Breaking Barriers.
"[I] try to bring both groups together to get to understand and see each other in a better light, in a more humane light. Because the reality is there are many more cops and community members that have much more in common than they think. Their priorities are the same, wanting a good way of life and to be compassionate and understanding. But somewhere along the line, all of that has gotten lost. And it has to do with police brutality and the policing of black and brown communities. And police have to take ownership for that," Sachs said.
He returned to the police academy in 2008 as an instructor in diversity and during his stint as a Human Rights Commissioner for the city, he chaired the commission's Community Police and Relations Committee.
Thanks to Sachs' efforts, local and state government in Oregon have adopted equitable hiring practices inspired by the Pittsburg Steelers' Rooney Rule, named after former Steelers' owner and former chairman of the league's diversity committee, Dan Rooney, which compels the hiring entity to interview at least one ethnic minority for leadership positions.
That effort started in 2009 when Sachs successfully lobbied the Oregon State Legislature to pass House Bill 3118, which requires the interviewing of at least one qualified minority applicant when hiring a head coach or athletics director at any Oregon state-funded University. A similar measure was adopted for the hiring of city of Portland bureau directors, called the Charles Jordan Standard, and named after the City of Portland's first African American Commissioner.
Most recently, in November, Sachs approached Multnomah County Commissioner Loretta Smith and successfully lobbied the Board of Commissioners to adopt a version of the policy, called The Gladys McCoy Standard for hiring executive-level positions. It's named after the pioneering politician who was the first elected African American woman to serve on, and later chair, the Multnomah County Board of Commissioners from the late 1970s to early 1990s.
Sachs also lobbied to eliminate the use of Native American Mascots in Oregon Schools, part of a larger effort originally brought to the legislature by Native American activists in 2006. He was also involved in advocating for changing the mascot of his former South Albany High School, who had eliminated the Confederate Flag from its logo 10 years ago, from the Rebels to the Redhawks.
Sachs said the change to the mascot was ultimately championed by the students and staff of the school. He added since then he'd seen people transform their views on Confederate iconography--from a source of school pride to understanding of the harm it may cause--just as he had.
"When I scored the winning touchdown against West Albany my junior year, we won 7-6. I ran around the field with a Confederate flag. And I had no idea what that flag meant to people, black people and brown people. But once I realized what it meant, then I had the obligation to try and change it. Everyone does, just not everybody does it."
For more information on Sam Sachs and his anti-discrimination efforts, visit thenohatezone.com.