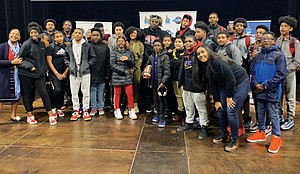 A former Jefferson High School athlete and student at Self Enhancement, Inc., was welcomed back to his roots in north Portland to announce his signing of a contract to play professional football.
JaMartae Brown will play for the Bismark Bucks from North Dakota in the Indoor Football League. The contract offer follows his senior year at Peru State in Nebraska.
Brown was joined by his friends and family and SEI students and administrators for last week's signing ceremony.
He said it was a struggle for him to find a good fit in college because his grades were not good coming out of high school, landing first at Phoenix College, a junior college program for two years before earning a scholarship to Mayville State University in North Dakota. But then when his coach got fired he transferred to Peru State in Nebraska where he finished his senior year while also studying English and Journalism.
Brown said the key for him was never giving in.
"It took hard work, Never giving up when it got tough. God, family, community and unity to get where I'm at right now. It's just the beginning of something special," he said.