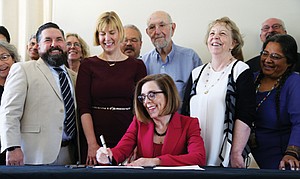 New sentencing requirements for young offenders meant to mitigate long held systemic racial, ethnic, and economic disparities in Oregon's corrections system was signed into law by Gov. Kate Brown Monday in what advocates are calling the most significant juvenile justice reform bill in the past quarter century.
It means that a series of mandatory minimum sentences originally adopted as part of Measure 11 in 1994 will be reversed. The former law has been a sore spot for minority and low income communities most impacted by an overrepresentation of persons of color in the criminal justice system.
In the case of serious crimes like murder and assault, youth offenders aged 15, 16, and 17-years-old will no longer be automatically prosecuted as adults. Moreover, a process will be established where all youth who are convicted in adult court will eventually be afforded a "second look," halfway through their sentence, by a judge, and life without parole sentences have been eliminated for those under 18.
After a decade of pushing similar legislation—including a failed push of juvenile sentencing reforms in 2013—lawmakers finally succeeded this year. That's in large part due to the added number of Democrats in the Legislature, a better scientific understanding of the brain development of young people and how that affects decision-making, and the late state Sen. Jackie Winters, a black Republican, championing the measure, among other factors. Winters was able to rally support from colleagues within her party while battling lung cancer for the past two years.
During Monday's bill singing, remembrances from colleagues and friends touted Winters as a criminal justice reform champion.
Pam McClain, Winters' daughter-in-law and chief-of staff, said in a tearful speech the bill was a long sought item to check off on the 82-year-old's list of accomplishments before her passing in May, which occurred just days after Senate Bill 1008 was passed by the Oregon Legislature.
"She wanted that second look for juveniles, she wanted to make sure we gave them hope," she said. "And she wanted to make sure that we understood that we were creating our next neighbors."
The bill was also vehemently supported by Attorney General Ellen Rosenblum, Oregon Department of Corrections Director Colette Peters, Oregon Youth Authority Director Joseph O'Leary, the Board of Parole, county juvenile directors, many judges and attorneys, and American Civil Liberties Union (ACLU) Oregon.
ACLU Oregon Policy Director Kimberly McCollough lauded the bill as a shift in focus from prevention to rehabilitation in the juvenile justice system.
"We applaud Oregon's legislature and Governor for shifting to what works with youth justice," she said. "Young people have a remarkable capacity for change. The vast majority of youth who commit crimes age out of criminal behavior and no longer pose a threat to society in adulthood. SB 1008's reforms will give youth who take accountability for their mistakes and successfully rehabilitate a second chance to become productive members of society."
Other updates to juvenile sentencing requirements in the bill include requiring an additional review before a youth with a long sentence is transferred to an adult prison and ensuring a process whereby youth convicted of a crime who are under 18 receive a chance for parole after 15 years of incarceration.
The law, which is not retroactive, will go into effect Jan. 1.