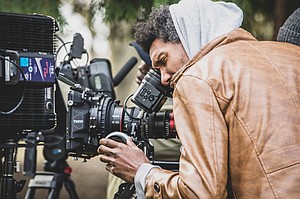 "It's not just starting projects and dropping them, but having the bandwidth to continue to create and bring people along that you know are not always recognized," Brooks said.
Open Signal Marketing Director Rebecca Burrell added that the black filmmaker incubator is also a notably unique endeavor.
"[A]s far as we know this the only program of its kind in our state, and potentially in the region, maybe more. It's a rare program for sure," Burrell said.
Kamal Sinclair, Senior Consultant of the Future of Culture Initiative at the Sundance Institute will give a talk at the screening to contextualize the program's importance in the larger film industry, Burrell added.
Black filmmakers made up only 5 percent of the industry's top directors in the country in the past decade, according to a 2018 University of Southern California study, and a much smaller percentage were black women.
The screening will also feature a behind-the-scenes documentary short about the program.
While the screening starts at 7pm, the doors open at 6:30pm with a pre-show DJ set from VNPRT. The screening is at the Hollywood Theatre on Ne Sandy Blvd for $10 general admission and $75 VIP tickets.
An after party for $15 general admission at Doug Fir Lounge starts at 9pm and features performances by local musicians Fountaine and Brown Calculus, with DJ Kream of Oakland, California.
All proceeds for the event benefit the next black filmmaker fellowship cohort, in 2020.
More information, including online ticket purchase options, can be found at opensignalpdx.org.