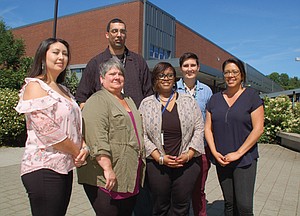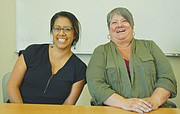 SEI, which is one of seven community partners the Water Bureau works with, helps their clients get connected to benefits such as these for families who are struggling financially.
"Really we try and prioritize making people who are coming in for energy assistance more of a one stop shop," SEI Energy Program Manager Megan McGinnis said. "If someone's coming in, [we] just have them bring that water bill with them. And then we can enroll them in their bill discount as well. Kind of saves them an extra trip."
McGinnis added that SEI does this by completing the verification of income and other qualification measures on behalf of the Water Bureau.
"[W]e try to make sure that our staff, before providing any form of energy assistance, are having a more comprehensive conversation about what might be creating that need," explained SEI Director of Community and Family Programs Department Sahaan McKelvey. "We'll be as thorough as we can…trying to get behind some of the root causes of why a family may be struggling with being able to [pay their] utility bills."
McKelvey said he's very appreciative of the steps that local agencies like the Portland Water Bureau are taking to create assistance opportunities for people, but that there's more work that needs to be done for multi-family units "to make that system more ideal and accessible as it needs to be for the families that are trying to tap into it."
Portland Water Bureau Financial Assistance Program Manager Corbett White, who has worked at Portland Water Bureau for 27 years, now oversees two other employees tasked with assisting customers with financial assistance inquiries—additional positions that were part of the enhancements that were enacted last year—when before only one person did the job.
She recalled a case where a woman was devastated by becoming involved with the payday loan system.
"She was a single mom facing her water being shut off. And she said it's not that I don't make money, it's just that they get the money before I do. And I was able to turn it around for her," White said.
She added that it's those moments of positively impacting customers' lives that gets her excited about coming into work each morning.
"There's a lot of people out there that are having a rough time financially. If they give us a call, there's ways for us to help and that's the message that we want."
White said there's two numbers for Portland Water Bureau customer service inquiries: a general line at 503-823-7770 where payment arrangements, such as monthly installments, or an explanation of the bill can be provided. Inquiries requiring more attention from the financial assistance specialists' line can be reached at 503-865-4357. Customers can also receive service by visiting a partnering organization, like SEI, or visiting the utility in person at 664 N Tillamook St., or online at portlandoregon.gov/water/.