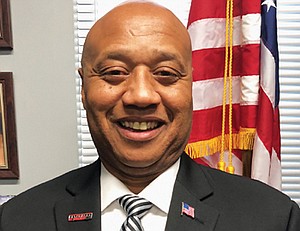 A transportation industry executive from Seattle will begin working for TriMet this month as its new chief operating officer, supervising the agency's transportation, maintenance, IT and safety and security divisions.
Samuel "Sam" Desue Jr. brings 22 years of public and private transportation experience to Portland.
Desue previously worked in transportation services in the Seattle and Kansas City metropolitan regions. He moved up through the ranks at the Kansas City Area Transportation Authority, starting there as the director of transportation in 2013 and serving as chief operating officer, interim general manager and, most recently, deputy chief executive officer.
Desue set priorities for the agency by developing a five-year strategic plan; improving on-time performance; promoting industry best practices and technologies; implementing a safety/security task force; and forging strong partnerships with community and business groups, first responders and city leaders, TriMet officials said.
Prior to Kansas City, Desue worked at both Pierce Transit and Community Transit in Washington, where he directed transportation services. He also oversaw ground transportation at SeaTac International Airport as well as operations at Seattle Monorail.
"Sam brings a reputation for performance-driven leadership with a commitment to safety, so he will be a great fit here at TriMet," said TriMet General Manager Doug Kelsey.
"Transit is critical to the citizens of the Portland metro area," said Desue. "I look forward to partnering with the General Manager to set TriMet on a strategic path for the future."
Desue will begin his role as TriMet's COO on March 18.