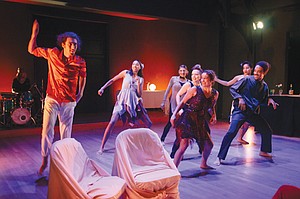 An ensemble of multi-dimensional dancers and musicians from Portland's Rejoice! Diaspora Dance Theater group, under the artistic direction of Oluyinka Akinjiola, will celebrate artists of color through history this weekend with two performances that will bring the cultural energy of Harlem to Portland.
"A Midsummer Night at the Savoy," shows Saturday, March 16 at 5 p.m. and Sunday, March 17 at 7:30 p.m. in the new theater space at Self-Enhancement, Inc., 3920 N. Kerby Ave.
The production is a take on Shakespeare's 'A Midnight Summer Nights Dream' and incorporates a recreated set of Harlem's Savoy Ballroom to celebrate the contributions of artists of color through history and the spaces that allowed African American arts to flourish. The Savoy was the first integrated dance ballroom in the country and an artistic incubator in the historical New York neighborhood.
Tickets are $16 advance and $20 day of show. Online ticket sales end 12 hours before each performance. Visit rejoicediasporadance.com.